One Tap HELLO
Services:
UI UX | MOBILE | CMS | E-COMMERCE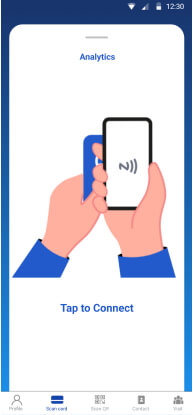 Project Information
Telecommunication industry
Overview
OnetapHELLO is a networking tool that allows you to exchange your digital business card by meare tapping on any NFC (Near Field Communication) enabled smartphone. A robust power move in communications and a revolution in the art of Networking.
The brand offers a classic platform and a smart business tag that is best-in-class and a budget-friendly.
Brief
Powered by a robust team, OneTapHello aims to make 'Networking easier than ever before'. It will help in increasing potential connects by using NFC technology-based networking tool. The client basically approached to develop an app & an E-commerce site along with this unique product
The Challenge
Client problem statement
There was no centralized & secure platform for this product & also there were some technical issues as code of this product was not up to the mark.
Our Consulting Approach
Client problem statement
Designed NFC chip-based tags which can be scanned by an NFC reader-based phones.
Prepared a mobile app having all features of Digital card thoroughly.
Prepared three separate websites according to Geography for ease & convenience strictly adhering clients Brand Guidelines.
Assisted thoroughly in Digital marketing in turn getting desired results, accelerating online presence & other marketing activities thoroughly.
Results
Through OnetapHELLO website users can buy an NFC chip integrated device (e.g., Tags, Cards), and they check that tags/cards utilization with the help OnetapHELLO app's analytics.
The client got app separately Android & IOS & websites feasible in three countries (India, USA, Canada)
Users can see-
Profile View count
Device tap count
Visit/tap analytics chart
Top 5 mainly used socials
Preferred OTH contacts and their details.
Who visited their socials profile using which social apps.