One Tap HELLO
Services:
UI UX | MOBILE | CMS | E-COMMERCE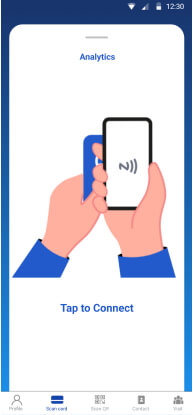 Project Information
UI UX, Mobile App and E-commerce website development Service by CreativeWebo
Project Overview:
Secured Mobile App Platform for NFC enabled Business Card Service.
OnetapHELLO is a networking tool that allows you to exchange your digital business card by mere tapping on any NFC (Near Field Communication) enabled smartphone. A robust power move in communications and a revolution in the art of Networking. The brand offers a classic platform and a smart business tag that is best-in-class and a budget-friendly option. CreativeWebo offered UI UX design and execution service for the One Tap Hello Mobile App and Website.
Brief
Powered by a robust team, OneTapHello aims to make 'Networking easier than ever before'. It will help in increasing potential connects by using NFC technology-based networking tool. The client basically approached to develop an app & an E-commerce site along with this unique product
Primary Challenges faced by One Tap Hello
Client problem statement
Lack of a centralized secure platform to fetch and present data. Resolution required for code discrepancies for better user experience.
Our Consulting Approach
Creativewebo's Ideal Solution for NFC Based Business Card Service.
Designed NFC chip-based tags which can be scanned by NFC reader-based phones.
Prepared a mobile app having all features of Digital card thoroughly.
Prepared three separate websites according to Geography for ease & convenience strictly adhering clients Brand Guidelines.
Assisted thoroughly in Digital marketing in turn getting desired results, accelerating online presence & other marketing activities thoroughly.
Results
Through OnetapHELLO website users can buy an NFC chip integrated device (e.g., Tags, Cards), and they check that tags/cards utilization with the help OnetapHELLO app's analytics.
The client got app separately Android & IOS & websites feasible in three countries (India, USA, Canada)
Users can see-
Profile View count
Device tap count
Visit/tap analytics chart
Top 5 mainly used socials
Preferred OTH contacts and their details.
Who visited their socials profile using which social apps.