 Android
Android is one of the most preferred mobile OS across the world. People prefer Android over other mobile operating systems for various reasons; open source apps, user interfaces and loads of free apps are few to list. You can, too, build an awesome app experience for your users with our android app development services at CreativeWebo Pvt. Ltd, Vashi
Book an Appointment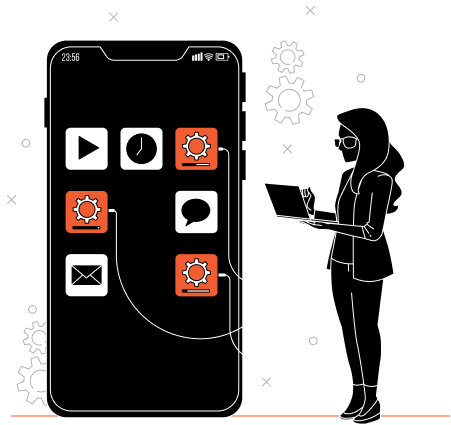 Cut through the competition with Android App Development Services by CreativeWebo.
What do you prefer? A little bit free followed by paid or paying without knowing?
CreativeWebo is the most recommended and highly rated Android Mobile App Development Company in Vashi, Navi Mumbai. Our team of expert android app development geeks get accurate insights on your audience user engagement and steps to take while building you a perfect app. Creating an Android app is like staying close to your target audience 24X7.
How do Android Apps help increase revenue?
Imagine this scenario, you purchased a tiny scarf from a local shop, and the local shopkeeper offered you a delivery service with a 24X7 assistant dedicated to buying items from his shop. How does it feel? Android apps are these delivery + shopping assistants for your customers and users.
Android Applications enable businesses to build a close relationship with their customers and help them keep engaged with push notifications, customised in-app experience, dedicated offers and cheesy messages that make them blush!
Why build an App when you can have a Responsive website?
Well! Apps help you stay connected. Responsive websites are suitable for the first connection with your customer. However, apps help you get repeat sales. A good app lets users engage with it and brings them closer to the shared interest between app and customer.
CreativeWebo holds expertise in building apps for the banking sector, astrology apps, edu-tech apps, android LMS, OTT-like apps and much more. Get in touch with today to know more about our app development service
CreativeWebo's Android mobile app development Services:
UI and UX design for Android mobile app Development Consultation:
Know the best that you can with apps for your business. At CreativeWebo, we connect with you and understand your customers' journey with your business. Understanding their behaviour helps us visualise and present the android mobile application functionality across different user groups.
UI and UX design for Android Applications:
User experience drives engagement, and engagement results in revenue. Therefore, designing and executing effortless navigation and app user interaction is crucial. We provide complete UI and UX design services for Android applications.
Android Mobile App Development:
Our android application developers are expert creators of scalable Mobile app solutions. In addition, we provide custom android mobile app development services to startups, enterprises and small and medium-level companies worldwide.
Android App Testing:
Our android mobile app development process ensures complete security and performance. In addition, we provide you with glitch-free and hack-proof android mobile apps by applying a mix of manual and AI-driven automated testing.